WORLD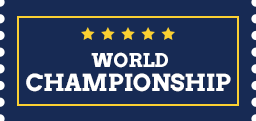 CIRCA LV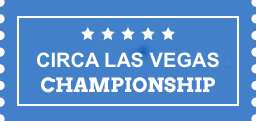 STARTER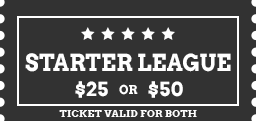 SUPERFLEX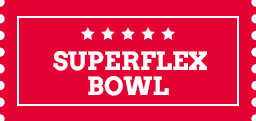 DFWC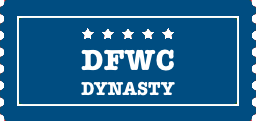 DYNASTY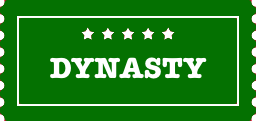 WELCOME TO THE 2023 DYNASTY FOOTBALL WORLD CHAMPIONSHIP!


If you play Dynasty Football - you're addicted to dynasty.

Our NEW $75, $150, $500 and $1,000 leagues. These new leagues are independent 12 team leagues that are not part of the Dynasty World Championship.

All leagues are Slow Drafts that are conducted online via our league software.Owners receive an email after every pick alerting them to the next team on the clock. You will have time to debate with a friend, start a twitter poll or negotiate a trade with other owners via email or chat. Trading of picks is allowed and encouraged. Please note:

To get involved in the discussion on this contest, visit our new Discord Chat.
WHAT IS DYNASTY? - Dynasty leagues are, without a doubt, the fastest growing segment in all of fantasy sports. The concept is actually quite simple. Draft your startup team, compete all year and KEEP your entire team the following year. You add to your team in the off-season through an annual ROOKIE and free agent draft every year, which occurs immediately following the NFL Draft.


SIGN UP NOW!
RESERVE YOUR SPOT
Multiple Entry Fee Levels
Join any of our $75, $150, $500 and $1,000 leagues!
SIGN UP NOW!
ONLINE DRAFT SCHEDULE
Online Drafts Start in Early June
All Drafts are SLOW DRAFT leagues that starts when filled.
SIGN UP NOW!
YEAR OVER YEAR
Carry your team players year over year and build your dynasty!
SIGN UP NOW!
HOW IT WORKS
22 ROUND DRAFT
(22 MAN ROSTER)
12 TEAM LEAGUES
14 WEEK REGULAR SEASON
(WEEKS 1-14)
AFTER WEEK 14
THE TOP 4 FINISHERS IN EACH LEAGUE
ADVANCE TO THE CHAMPIONSHIP ROUND
(WEEKS 15-17)
PPR SCORING
POINT PER RECEPTION
11-MAN STARTING LINEUPS
(1QB-2RB-3WR-1TE-1TK-1DST & 2FLEX [RB, WR, or TE])
WAIVERS
We use Blind Bidding each week to determine who receives the hot free agents. No longer will your buddy sit around the computer and scoop up the best players before you get home from work. Every team is given $1,000 bid bucks. (imaginary money) From Kickoff Sunday until Wednesday at 11pm EDT, you can enter and edit your blind bids for any available free agent. On Wednesday night at 11pm EDT, come back to the site to see who you've won. There is also a second waiver run on Sunday mornings at 10am EDT in case you didn't win that backup kicker you needed.
GAME RULE DETAILS
PRIZE DETAILS
ALL
SLOW
FFWC
Dynasty
SprFlx
Starter
Bestball
Vegas

WELCOME TO THE 2023 DYNASTY FOOTBALL WORLD!


If you play Dynasty Football - You are you'raddicted to dynasty.

Our NEW $75, $150, $500 and $1,000 leagues. These new leagues are independent 12 team leagues that are not part of the Dynasty World Championship.

All leagues are Slow Drafts that are conducted online via our league software.Owners receive an email after every pick alerting them to the next team on the clock. You will have time to debate with a friend, start a twitter poll or negotiate a trade with other owners via email or chat. Trading of picks is allowed and encouraged. Please note:

To get involved in the discussion on this contest, visit our new Discord Chat.
WHAT IS DYNASTY? - Dynasty leagues are, without a doubt, the fastest growing segment in all of fantasy sports. The concept is actually quite simple. Draft your startup team, compete all year and KEEP your entire team the following year. You add to your team in the off-season through an annual ROOKIE and free agent draft every year, which occurs immediately following the NFL Draft.







RESERVE YOUR SPOT

Multiple Entry Fee Levels

Join any of our $75, $150, $500 and $1,000 leagues!

SIGN UP NOW!

ONLINE DRAFT SCHEDULE

Online Drafts Start in Early June

Choose a league with your preferred entry time, or pick a SLOW DRAFT league that starts when filled.

SIGN UP NOW!

YEAR OVER YEAR

Carry your team players year over year and build your dynasty!

SIGN UP NOW!





HOW IT WORKS

22 ROUND DRAFT

(22 MAN ROSTER)

12 TEAM LEAGUES

14 WEEK REGULAR SEASON

(WEEKS 1-14)

AFTER WEEK 14

THE TOP 4 FINISHERS IN EACH LEAGUE

ADVANCE TO THE CHAMPIONSHIP ROUND

(WEEKS 15-17)

NO TRADING ALLOWED

PPR SCORING

POINT PER RECEPTION

11-MAN STARTING LINEUPS

(1QB-2RB-3WR-1TE-1TK-1DST & 2FLEX [RB, WR, or TE])

WAIVERS

We use Blind Bidding each week to determine who receives the hot free agents. No longer will your buddy sit around the computer and scoop up the best players before you get home from work. Every team is given $1,000 bid bucks. (imaginary money) From Kickoff Sunday until Wednesday at 11pm EDT, you can enter and edit your blind bids for any available free agent. On Wednesday night at 11pm EDT, come back to the site to see who you've won. There is also a second waiver run on Sunday mornings at 10am EDT in case you didn't win that backup kicker you needed.

RULESPRIZES



ALL SLOW FFWC Dynasty SprFlx Starter Bestball Vegas